Born into a humble family and growing up on a small island, H.E. Oratmangun did not keep his dreams small. Upon reading an article about life as an ambassador in a local newspaper, he immediately set his sights on the diplomatic world. He has since dedicated himself to his country—more than 30 years of bridging nations and people, promoting diversity and inclusivity at the same time.
H.E. Oratmangun currently serves as the Ambassador of The Republic of Indonesia to the People's Republic of China and Mongolia. During his prior posts in New York, Switzerland, The Netherlands, and Russia, he tackled many issues including human rights, environment, trade, and investment, as well as digital economy. In this article, he highlights how Indonesia and China are growing closer together, especially in terms of the tech ecosystem.
This interview has been edited for brevity and clarity.
KrASIA (Kr): Sir, you were born and raised on a frontier island in Indonesia, far from the sparkling capital city. Can you tell us more about where you grew up, family influence, and how it led you to your diplomatic career?
Djauhari Oratmangun (DO): Both of my parents came from rural areas in the eastern part of Indonesia; my father from Tanimbar Islands in Maluku and my mother from Kamangta village in North Sulawesi. Both of them worked as teachers. We lived in Sulawesi and Maluku, far away from Jakarta, the capital city of Indonesia. As for myself, after completing high school in Maluku, I decided to further my studies in a bigger city. I had been accepted by the Faculty of Economics of Gajah Mada University in Yogyakarta.
What inspired me to become a diplomat? When I was in grade 9, I read an article on Kompas (a local newspaper) about the the life of a diplomat, he was in permanent mission of the Republic of Indonesia, at the United Nations (UN) in New York. I thought this would be a possible career option because I had wanted to go abroad while serving the nation. Of course, my family also had significant influence over my personality while growing up, and my choice of career.
Kr: Having taken on different posts in your career, could you share some of the highlights? 
DO: It is a long journey, every post has its own stories. 10 years after reading that article on Kompas, my dream of becoming a diplomat came true. My first posting as a junior diplomat was a permanent mission of the Republic of Indonesia, to the UN in New York. It really felt like a dream came true the first time I saw the UN's plenary room. I was involved in issues of East Timor and human rights, as well as campaigning for Indonesia to become a member of the UN.
For my second posting, I was on permanent mission to Geneva. I took part in trade negotiations and the establishment of the World Trade Organization (WTO). We were pushing for fair trade, anti-dumping, and countervailing duties. In later years, I chaired the early agenda of Sustainable Development Goals (SDGs) initiated by the UN. Then in the early 2000s, we focused on the theme "Information and Technology for Development." That was the beginning of a digital economy. Back then, Alibaba had just been founded and was still a website!
More recently, I served in the Netherlands to represent ASEAN. Following that, I served as the Indonesian ambassador to Russia in 2010-2016, and now for China and Mongolia for two years already.
Kr: Wow, that's a lot of experience indeed. As an ambassador, you also have to move from one country to another with your family. How do youadapt to the new culture and society?
DO: First things first, I discuss everything with my wife. Whenever we go to a new country, my wife and I tell the children that we are there to learn – about the country, its political and economic system, and its people. My family takes time to explore the place and establish a network of friends in the country as well. Hence I think we have adjusted quite well, wherever we go.
Kr: With so many cultural and societal experiences, can you tell us what is the silver-lining amongst all differences in humanity? How do you reconcile all of it?
DO: Humanity to me is very simple. We are all human beings. For every deal I sign with a country, I bear in mind that my counterparties are all just human beings like me. The "people approach" is always best. Of course, in my particular case, I serve the people of my country, and they serve the people of their countries. But the basic thing is, we are all human. There is no difference in that.
Kr: Now, about your current post in Beijing. Do you see the two countries (Indonesia and China) growing closer, especially in terms of tech ecosystems and the new economy?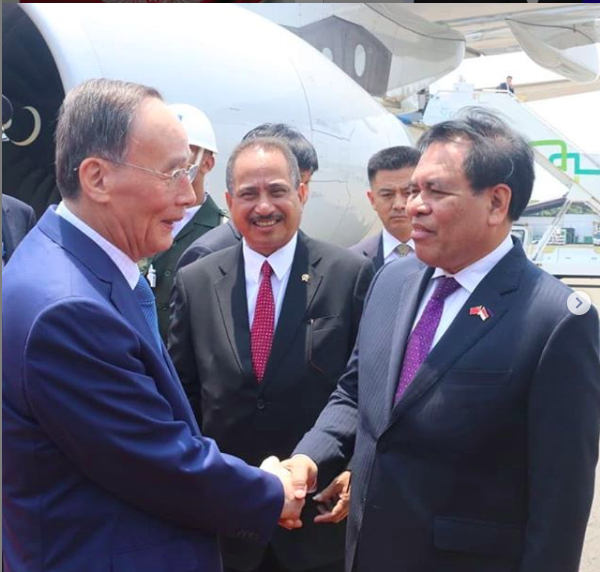 DO: In 2013, China became a "strategic partner" to Indonesia. This year, we have elevated the diplomatic status and just celebrated the 70th anniversary of Indonesia and China's diplomatic relations. I also hope to strengthen economic cooperation between the two countries. This will happen in four aspects.
First of all, trade. Last year, we achieved USD 72 billion worth of trade between two countries. Even with COVID-19, we have been able to export and this is significant to our economy as China is our largest trading partner. I hope to continue promoting trade, which is an important pillar of support in economic development.
Secondly, investments. The dollar value of investments coming in from China has increased by 95.6% and I hope that this figure continues to grow.
Thirdly, from a tourism point of view, the amount of revenue has decreased in light of the COVID-19 pandemic. However, when the pandemic blows over, I foresee that tourism will play a catalytic role in the economy once again.
Lastly, but very importantly, the digital economy. The digital economy is already contributing to almost 30% of China's gross domestic product (GDP). That's a very huge number. In Indonesia's case, the digital economy is worth up to USD 45 billion. So we need to learn from China and collaborate with one of the biggest leaders in the digital economy sector.
E-commerce, artificial intelligence, big data, blockchain, media, Internet of Things—the digital economy holds boundless opportunities for us. I have already spoken with Jack Ma from Alibaba. I had also scheduled to meet leaders of Tencent, if not for the COVID-19 situation. And Bytedance which owns the viral media site TikTok, is also headquartered in Beijing. I hope that after the COVID-19 pandemic blows over, we can accelerate growth in this arena. The digital economy, trade, investments, and tourism, form 4 main pillars of economic development—and I see this as the future of Indonesia.