Jo Tyndall is the New Zealand High Commissioner to Singapore, a position she has held since 2019.  Previously as New Zealand's Climate Change Ambassador, she was head of the delegation to the United Nations climate negotiations with the Ministry of Foreign Affairs and Trade from July 2010 to March 2016.  From 2014 to 2015, she held a vice president position on the Bureau of the United Nations Framework Convention on Climate Change, representing the regional grouping of Western European and Other States. From 2016 to December 2018, she also co-chaired the United Nations Framework Convention on Climate Change's (UNFCCC) Ad Hoc Working Group on the Paris Agreement (APA).
This interview has been edited for brevity and clarity.
KrAsia (Kr): How has COVID affected your work as High Commissioner to Singapore?
Jo Tyndall (JT): When the pandemic struck, things got very difficult. Suddenly, there was an enormous number of consular issues—people who wanted to get somewhere ended up being stuck, flights not happening, visas expiring, new border restrictions being implemented every other day, etc. It was complete chaos.
The next problem was supply chain disruption. As we all know, Singapore is reliant on imports for more than 90% of food needs. This became a real issue from the government's point of view, with mounting pressure to ensure open and consistent food supply. At the same time, New Zealand was getting anxious about medical supplies, for COVID and general purposes. So the whole nature of the diplomatic business changed. There was an imminent focus on tackling supply chain issues and making sure that essential goods could flow freely between the two countries, and Singapore and New Zealand had to work incredibly closely.
Also, businesspeople could not travel easily from one country to another. Maintaining connections is one thing; building new business connections became doubly hard in the COVID environment. On both ends, New Zealand and Singapore had to work very closely with trading enterprises and unions, doing as much as possible to plug the gaps.
In many ways, my job as High Commissioner of New Zealand to Singapore became much more complex and demanding. It did not help when communication was hindered.
After all, diplomacy has always been a face-to-face practice. That's the whole basis for having a representative based in another country. So making the move from face-to-face activities to virtual diplomacy—that was hugely significant. While digital technologies have been a real savior, scheduling calls at unusual hours (due to time zone differences) and lacking personal touch remain stumbling blocks for diplomacy.
Kr: You've highlighted many ways in which New Zealand and Singapore are working closely. Both countries also signed an Enhanced Partnership in 2019. What is your view on the development of SG-NZ ties in the long term?
JT: I think it was fantastic that we signed the partnership back in 2019. Not that New Zealand and Singapore failed to cooperate before that, but the formalized agreement truly created a solid base for further cooperation. And this proved true in the face of the COVID crisis. For example, we have identified several new areas to work closely on, apart from those already under the Enhanced Partnership, which we quickly added to the list. These include pandemic-related affairs, such as vaccines and medical supplies.
In reality, there are even more opportunities for cooperation. Take for example, food security. While Singapore looks to New Zealand to diversify food variety and countries of source, New Zealand can also learn a lot from Singapore in terms of urban or vertical farming expertise.
Another opportunity lies in the digital economy. Fortuitously, on the eve of the pandemic, New Zealand, Singapore, and Chile signed the Digital Economy Partnership Agreement. And that provides a framework, sets up rules regarding various forms of the digital economy and identifies areas for cooperation at the frontier of cutting-edge technologies including AI, digital identities, and more.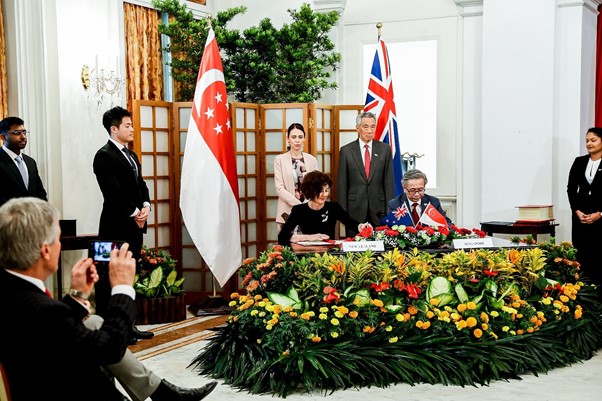 Kr: Can you explain more about your role as New Zealand's Climate Change Ambassador?
JT: I started the role in 2010, six months after the unfortunate climate change summit in Copenhagen that had failed to produce a new global treaty. And my role was to lead New Zealand's delegation to the UN climate change negotiations. Next, I was tasked to work with domestic agencies to ensure alignment between our international obligations on climate change and our domestic policies.
In the lead-up to the Paris Agreement, I also had a direct role to play. Meeting representatives all over the world and discussing a global issue made me think deep and far. How do you craft a global treaty that is going to be sufficiently attractive for a wide range of countries to actually join, yet not too loosely constructed because we need to keep certain rules for accountability?
Ratification of the Paris Agreement didn't mean the end. I was elected to co-chair the Ad Hoc Working Group on the Paris Agreement, which meant 3 years [of international negotiations would follow]. In order to establish rules underpinning the entire plan, the Working Group had to find ways through the very different views of 196 parties to the Agreement.
All in all, it has been a very exciting role for me.
Kr: On the topic of the Paris Agreement, Joe Biden is taking office in January and has publicly stated his intention for the US to re-join. How do you think this will impact climate change efforts, in general?
JT: First of all, it's important to note that the Paris Agreement was dented, but not undermined, by the US decision to withdraw in 2016. There was no domino effect. No one else walked out of the door. In fact, ratifications of the Paris Agreement continued.
Secondly, within the US, we could see local governors and business leaders committing to climate change action. This occurred at a state if not national level. And to me, that has been the most important.
Nonetheless, having the US back in will give the Paris Agreement and associated negotiations a really powerful boost. I also feel optimistic in the lead-up to the next Climate Change Conference, to be held in Glasgow at the end of 2021.
Kr: For you personally, what is your biggest takeaway for 2020?
JT: In terms of my work, I believe Singapore and New Zealand have proven themselves to be true friends—friends in need—during COVID and that is very heartening. I consider that a highlight of 2020 amidst plenty of lowlights.
And I think I am like everybody else. Rethinking my values, understanding that life is precious, that family and friends are important. We need to maintain strong ties, even ramp them up with technology.
But ultimately, we're social creatures who need physical contact, and our new normal has to accommodate that in whatever safe ways we can think of. To sum up, we need to be kind to each other, and ourselves, and the environment at large.