Rama's passion for creating profitable businesses with high growth trajectories has continued throughout her 30-year career across technology and financial services industries. As an experienced female executive, she is also involved in mentoring high potential talent for future leadership and advising startups on business growth. Outside of the office, Rama loves spending time with books, music, and her family. While work engagements have taken her around the world, Rama is proud to call Singapore her home.
This interview has been edited for brevity and clarity.
KrAsia (Kr): How would you define financial inclusion?
Rama Sridhar (RS): Financial Inclusion, as I define it, is about providing everyone with equal and available opportunities to access banking services. And that does not necessarily start with a bank account. But it basically means everybody needs to have an account in which they can receive payments and make payments. Our aim at Mastercard is to connect and power an inclusive digital economy that benefits everyone.
Kr: Your area of expertise lies in digital payments and transactions. In your view, what happens when people don't have access to infrastructure that covers digital payments? 
RS: When people don't have access, growth will inevitably be impacted. In today's increasingly digitalized world, so many transactions occur digitally instead of using hard cash. That's why we need strong and reliable infrastructure to support economic activity, as we move towards the vision of cashless societies in Asia. Furthermore, the digital economy is able to provide a good level of transparency and access to funds, which are important pillars of economic growth.
As you may already know, Asia represents a third of the global growth in digital payments. And innovative fintech players continue to create new opportunities for such growth. There is so much potential here. Yet ASEAN as a region still holds the largest population of underserved citizens from a financial inclusion perspective. So the issue is getting critical. We do need to act fast and improve access to digital payment infrastructure.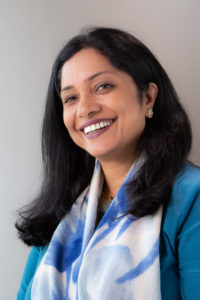 Kr: As you oversee digital & emerging partnership, and payment flows in the Asia Pacific region, can you elaborate on the state of digitalization and the payments landscape here?
RS: Asia is a very vibrant region. Firstly, the rising smartphone usage coupled with the digitalization of commerce – both of which are supported by huge fintech investments, have driven an increase in online spending and transactional activities. At the same time, the government's agenda and regulatory emphasis on electronic payments, serve to ensure secure and sustainable growth as we move forward. Additionally, people are realizing the importance of digital and financial inclusion. So all of these factors come together, to create the perfect backdrop for electronic payment technology to multiply in Asia.
The second thing is, many countries in Southeast Asia are developing domestic real-time payment systems. These include Singapore's FAST payments, PromptPay in Thailand, and InstaPay in the Philippines. Now consumers are able to transact anytime they want, on a real-time basis, with a lower dependence on cash. This also contributes to the push for digitalization and electronic payments.
As a result, we are seeing tremendous growth momentum. I'd also like to mention the rise of e-wallets. At the moment, there are 150 registered providers in Asia. That's a significant game-changer because e-wallets act as a quasi bank account for the underserved or those who previously did not have access. We are currently working with large e-wallet players so that we can bring these underserved users into the financial ecosystem.
Kr: Can you give us examples of how partnerships across the payment ecosystem may unlock new financial possibilities for people and businesses?
RS: We believe that partnerships are very critical to unlocking financial possibilities for ourselves as a company, for the general public, and for businesses. Because it's almost impossible for any organization to possess 100% of the capability required to reach all sections of society.
We partnered with Rapyd last year to accelerate our objective of fintech onboarding. Since they offer a fintech service platform, with the necessary backend systems to support business functions, companies looking to adopt certain payment systems could work with us.
Another partnership involved digital bank Tonik, in the Philippines. They aim to drive financial inclusion through digital-first products and experiences. And they will reach a population that has perhaps not been tapped enough by the traditional banking institutions.
We also felt that the small and medium-sized enterprise (SME) segment is very crucial. So we partnered with PayMongo in the Philippines, essentially working to enable SME disbursements. The goal was to enable SMEs there to accept online payments.
Kr: As 2020 comes to a close, what are your key takeaways from the workplace and from your personal life?
RS: With Mastercard, we have always wanted digitalization to pick up and even expand in 2020. This is not an option anymore. Clearly, the speed of digitalization is being driven by more than companies like us, but also by governments and regulators. So I'm very convinced that over the next two to five years, the rate of change will be significantly faster than what we've seen in the last 20 to 25 years.
I've also seen how different players in the ecosystem can solve the problem of financial inclusion. Fintech companies, technology platforms, e-wallet providers – all of them can come together and leverage the digital payment infrastructure, be it through cards or remittances or real-time payments, in order to make change happen.
For a personal reflection, I think 2020 has impacted us in many ways. In the face of COVID- 19, working from home became a real possibility, now even a continuing reality. Many people, particularly women who used to be challenged on working from home, can now firmly consider this to be an option.
The flip side of it would be the imbalance of privilege in society. A lot of people cannot work from home because their jobs involve manual labor or services. So the stark difference between white-collar workers and blue-collar workers, is playing out much more.
Kr: In terms of gender equality, what future do you envision for your own daughter when she grows up?
RS: I like to picture this scenario: 20 years later, I have a conversation with her and I'm talking about how I used to be one lady, out of a hundred men in the room. She looks at me strangely and says, "What are you even talking about? There are as many women in the room that I sit in, as there are men." To me, that would be a wonderful conversation.
I hope that in the years to come, women in any part of the world do not have to fear any spaces – public or private, or corporate room – when it comes to speaking their minds. Women should be naturally confident and respected. This is what I really hope for my own daughter when she grows up, along with every other girl.