Pwint Htun was born in a small rural village in Myanmar's Ayeyarwady region. She later followed her mother to a refugee camp in Thailand after Myanmar's national uprising in 1988, and then settled in Seattle, United States, where she studied to become an engineer, and later an executive in the US telecom sector, developing the first Android devices as well as the MySpace Mobile app for T-Mobile's Sidekick phone. After working in the US for 17 years, Pwint went back to Myanmar with ambitions to bring mobile financial services to the country, where mobile money was still merely an idea. She helped draft mobile financial services regulations, laying the foundation of Myanmar's burgeoning fintech scene. Eventually, she founded Mobilizing Myanmar, a nonprofit organization supporting community-led efforts to improve the lives of the most vulnerable people in Myanmar. Currently, she is also a fellow at Harvard University.
Community members can ask Pwint Htun questions here.
The following interview has been edited for brevity and clarity.
KrASIA (Kr): Your personal story is incredible. Can you tell us about growing up in Myanmar and your relocation to the US?
Pwint Htun (PH): I grew up in a village in Myanmar's Ayeyarwady region. Being in the rural area where we felt so at home, I had not expected to leave. However, when I failed the eighth grade standard examinations, my grandmother, who firmly believed in quality education, put her foot down. She wanted to send me abroad to study.
Myanmar's national uprising happened in 1988, and I followed my mother to a refugee camp in Thailand. At that time, my neighbors were an American couple who tutored me. I started doing really well at school. And I was especially keen on physics and chemistry. They told me, "You have to come and study in the US." Then, they bought me to live with them in Seattle. That's how I ended up studying electrical engineering there.
Kr: How did you feel when you arrived to Seattle?
PH: When I first landed, I was so homesick. I had never been away from my family. At the time, long distance calls to Asia were very expensive, so I couldn't call them. The hourly minimum wage was USD 4.50. It would not even cover a minute of call time (USD 5).
That's why I became interested in telecommunications—knowing the importance of staying connected with loved ones. I became an engineer in the telecommunications industry in the US upon graduation.
Kr: Why did you return to Myanmar?
PH: I took a sabbatical and travelled across East Africa in 2007. That's when Kenya was getting started on M-Pesa, a fast-growing mobile payment platform. What M-Pesa offered was transformative and disruptive. This technology offered to connect the women in rural areas with their families, especially because they could easily remit money through phones. I thought to myself, how I'd love to see something like this happen for my homeland. I was inspired to put my skills to good use.
Now we have almost 95% of the population with access to 3G or 4G coverage—in the rural areas of Myanmar as well. That, for me, holds exciting opportunities. With pervasive network coverage and an enabling environment, we can build up the mobile financial services industry.
Kr: With the ongoing coronavirus pandemic, how do you think digitalization in this context will affect Myanmar?
PH: I feel that digital inclusion will be critical to pandemic recovery not just in Myanmar, but in every country around the world. We live in an increasingly digitalized world, and this crisis has created even more urgency. Take, for example, education. The best universities in US like Harvard and MIT have all of their classes on Zoom. The pandemic is redefining parameters and showing us what is possible with technology. It is really pushing policymakers around the world to drive rapid digitalization across all sectors, not just for education but also public health, financial services, delivering emergency aid, and more.
For those who lack access to affordable internet connectivity and mobile devices, or for those who don't have digital skills, they will be left behind. We have to shift this mindset from thinking about the traditional way of delivering services, to thinking about innovative ways to provide digital-based services. Because digital-based services that are open to everyone are the quickest and most democratic way of reaching out.
Kr: How have you been working towards equitability?
PH: Technology is an incredibly powerful tool for reducing inequality between people—between genders, and between the urban and rural populations. When I am building such tools, I think about the most marginalized groups in our community. If I design a tool with the most marginalized people in mind, it could work for everybody else. If I were to design for the urban elite, it's much harder to make the same tool work for marginalized groups. That is my design philosophy.
One example would be the blind people in rural Myanmar. You know, I recently taught some of my blind friends how to use digital finance on their phones. And it's so fulfilling for me to see how it has transformed their lives. I know it will work for someone else younger or with normal sight, and most people in general.
That's just one example of how we use technology to create a more equitable society. We need nationwide efforts to impart digital skills to micro-enterprises, mom and pop shops, small and medium enterprises, and entrepreneurs from the rural area.
Kr: What continues to inspire you today? What do you stand by and live by?
PH: The incredible generosity that the people of Myanmar possess. The culture is what really humbles me and inspires me to keep doing this work. I've met farmers who don't know who I am, but insist on sharing vegetables that they grow in their backyard. I've seen rickshaw pullers who struggle to survive in this pandemic, but pool money for donations to COVID-19 patients. I've seen women going out there with their personal protection equipment, even during the pandemic, to train other women on digital literacy, which has become essential in daily life. It's that generosity of wanting to share knowledge.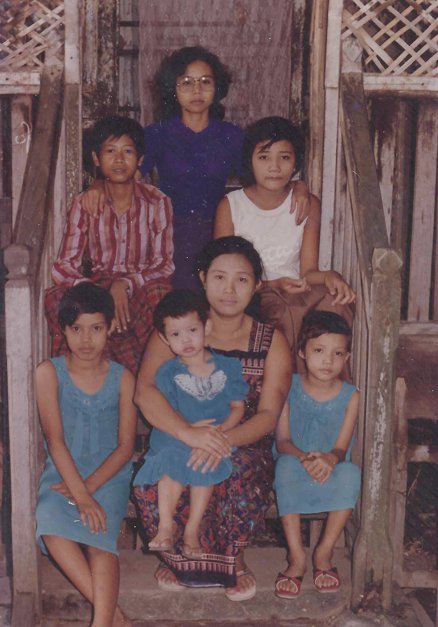 Kr: What is your vision for Myanmar's society?
PH: First, I hope for peace. Peace is the most important foundation for the development of a society. Secondly, I hope for more opportunities for young women to step up. They can be fearless and capable and collaborative and courageous.
Kr: Do you have advice or words of encouragement for younger generations?
PH: I have two main points. The first one is not to be afraid. Silicon Valley is what it is because people embrace failure and celebrate failure. There is no fear of failure or fear of making mistakes, which would get in the way of innovation.
The second thing I want to talk about is the feeling of self-doubt, which we call Imposter Syndrome. Steven Chu is a Nobel Prize-winning physicist, US Secretary of Energy, and director of the US National Laboratory. He's one of the most accomplished human beings on this planet. Yet he talked about how he personally struggled with Imposter Syndrome and self-doubt. Even he faced such pressure. I think it's okay to experience fear and doubt, but don't let it stop you. Go out and accomplish things that make this planet better.
---
Disclaimer: This article is part of our "Tuning In" series, where we interview and chat intimately with thought leaders who are breaking the mold, pushing the frontiers of innovation and are trailblazing figures in their space. All answers reflect the personal perspective of the interviewee herself, and not Oasis's. If you'd like to nominate someone for our "Tuning In" series, you can recommend them here.