Maryline Marquet, vice president of operations for Asia Pacific Medical Technology Association (APACMed)
Interview conducted by Amel Rigneau, Founder of DigitalMind Media.
Hi Maryline, so what do you do and what brought you to Asia?
I was raised as an expat kid in Saudi-Arabia in the 90s and always wanted to travel more. So I worked on 3 continents, had a child on each of them, one born in NY, one in France and finally one in Singapore.
For the past 5 years in Singapore, I have worked exclusively on population health problems with tech startups to gain an understanding of the region, built a network and leveraged my corporate background to build partnerships.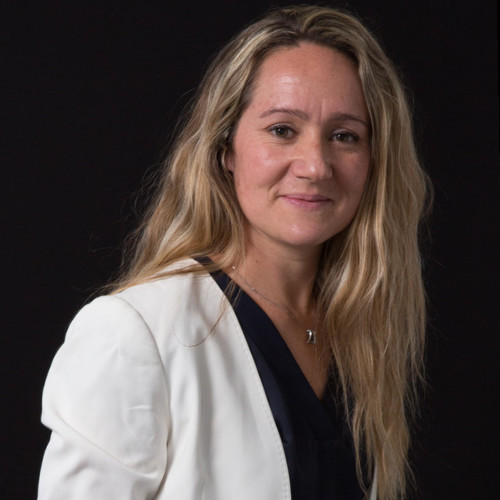 What are the main challenges today in healthtech and digital health in Singapore and in Asia?
Healthtech is a way to improve health through technology. Digital health is an even broader umbrella term, which can be defined as an emerging health area that uses brand new digital or medical technologies involving genomics, big data, wearables, mobile applications, and artificial intelligence.
For example, your Apple watch detects atrial fibrillation, hypertension, sleep apnea, even diabetes, helps you remember to take a pill, monitor your heart beats, count your steps, this tricorder is now a reality. Based on the data provided by medical devices, your phone or watch, algorithms can predict simple things such as your menstrual cycle, to try to conceive, or more sophisticatedly, your next heart or asthma attack. This prediction will allow you sufficient time to reach the A&E and act on it before it happens. The health solutions are more and more personalized and allow interventions before it's too late.
Healthtech is a revolution itself in the healthcare world. With healthcare, technology faces some of the usual challenges around tech but with health we are all scared someone will know something we don't want to tell: Firstly, privacy is high on the list of concerns for everyone. Cybersecurity standards are really important. Next would be both patient experience from a consumer standpoint, enjoying care was never a key concern to doctors or hospitals, but today a lot of people work on improving, and making experience easier, smoother, less scary. Probably what would come in third place would be affordability, cost. A lot of people on this planet suffer and can't access care. Digital is here to offer scalability, a cheaper way to provide support, care to more.
How do you feel you are on the right track of proving that healthtech works?
First, you look at what success may look like somewhere else. There are many apps emerging today in this region that I am excited about: Livemore, Feeleat, Savonix, CancerAid, Wellthytherapeutics. Togetherforher probably is my favorite.
These digital health apps are making life easier for the users and are proving to save costs. In this industry, and particularly through healthtech startup founders, I mostly come across people that have population health as an end goal and usually have been confronted themselves in managing a disease of a loved one.
For example, TogetherforHer is an Indian app which supports mothers all along their pregnancy to reduce risks for the child to be born and the mothers. The founder, Nayan Kalnad, a friend I met while at J&J, is a doctor by training. After a few years of practicing, he went back to business school and launched his startup with one goal only: To personalize care and improve health outcomes for the patient. I am so proud of his work and the number of lives he has transformed in the UK and India.
What are the big innovations you are looking for to accelerate what you are trying to achieve?
Cloud IoT is the backbone of the future of all healthcare systems. By providing objects with sensors to monitor their environment and an internet connection to communicate, the Internet of Things will give organizations a greater ability to gather data and report back in real-time. The big benefits are for patient care enabling hospitals and doctors in the community to track and monitor patients from the moment they arrive at the hospital or even in the home before that.
Then 5G will enable to transfer faster, to download faster, to be able to decide faster. For instance, you can do surgery remotely because it's instantaneous. I would say to close the loop, refocusing on the customer, and here we mean patients, organizations will collaborate to improve user experience through API integration. There is a space to build platforms that would group 20, 30, or 50 healthtech companies to serve millions of users and their families across therapeutic areas. All stakeholders collaborate to achieve healthcare cost savings and improve health outcomes.
I understand you recently joined APACMed, a trade association representing both large MNCs and startups. What are the main challenges of representing both groups?
MNCs and large insurers are set up for hundreds of years, have processes and resources (FTE and $). A startup has none: No money, no resources, no processes, it all lies in its people and their willingness and motivation to make it happen. I feel having worked in both allows me to understand the needs of each group and ensure to serve all our members according to those needs. Not-for-profit associations, such as APACMed, are here to represent a neutral party when talking to government bodies and have one voice when discussing medtech matters. APACmed's mission is to improve the standards of care for patients. As such, we work on 3 main work streams: Regulatory, market access and recently digital health for medtech. APACMed helps medtechs navigate the increasingly complex and fragmented regulatory landscape. APACMed provides access to relevant regulatory intelligence for its members, advocates convergence in regulatory requirements where possible across Asia Pacific countries, facilitates collaboration between government, non-government, and industry stakeholders to improve patient access to medical technologies.
The problem is that most of the regulations do not align with digital health since they currently target traditional medical technologies, not digital health technologies. However, some countries such as Korea or Singapore are leading the way. Korea is one of the leading countries in digital health regulation, for example, with the Korean MFDS issuing the first medical AI software regulation guidelines in December 2017. I think there is a lot of innovation. Governments are trying to accelerate the adoption of such frameworks.
Our day-to-day complications at APACMed is to deal with 3 different groups that have different timelines. This is a challenge that the team is addressing by constantly communicating with all stakeholders and find innovative ways to collaborate. Collaboration is key to innovation success and the team know-how about how to become involved is key.
---
Disclaimer: This article was written by a community contributor. All content is written by and reflects the personal perspective of the interviewee herself. If you'd like to contribute, you can apply here.
French Tech Singapore is a nonprofit organization gathering French entrepreneurs and locals working in Singapore in the tech industry. La French Tech encompasses all startups, i.e. all growth companies that share a global ambition, at every stage in their development, from embryonic firms to growing startups with several hundred employees and their sights set on the international market. As is the case all over the world, digital technology is a major catalyst for its development, and French Tech represents digital pure players as well as startups in medtech, biotech, cleantech, and other fields.