I remember Marcus Phua, one of our Co-founders, saying, "I still don't know myself as a person, and don't know what I want to do in the future." The rest of us nodded our heads in agreement. It was interesting how we all came from different backgrounds and studied different things, yet faced a common problem—uncertainty about our career paths.
Anxieties about our professional future
I had majored in communications and new media because I thought I wanted to go into design. However, when I had my first internship at a local startup as a design intern, I was exposed to marketing, which intrigued me. There were several areas that appealed to me, such as content marketing, digital marketing, social media marketing, brand marketing, and more. I did not know what suited me or what I should do. To be honest, it did not even occur to me that these were different fields. I dabbled in everything and finally decided that I want to go into digital marketing.
My job search process was difficult. Companies were not looking for someone who only went through one internship in social media as job experience. Many hiring managers wrote back to me to say, "Sorry, you do have a lot of experience in different areas of digital marketing, but you are not specialized." That meant rejection.
After completing five internships and going through at least 50 interviews, I saw how hiring managers often referred to the most annoying question they got from interviewees: "Sorry, what is this role about?" Asking this does not reflect well on the student. They had the mentality to spam and mass apply to see where it would take them, which shows that they are still unsure of their career paths. It is important for students to understand the golden triangle formed by one's personality, passion, and role to apply for jobs that really suit them. With that in mind, I founded MatcHub to provide students with targeted job recommendations and make their journeys a little easier.
Founding MatcHub through a common vision
The idea for MatcHub came up when our core team was in Shanghai, having a casual dinner. We were in the NUS Overseas College (NOC) program when Rayse Yeo, Vivian Chan, and Noel Wong told us that they were struggling as interns. They felt like the scope of their work was not aligned with their personalities and passions.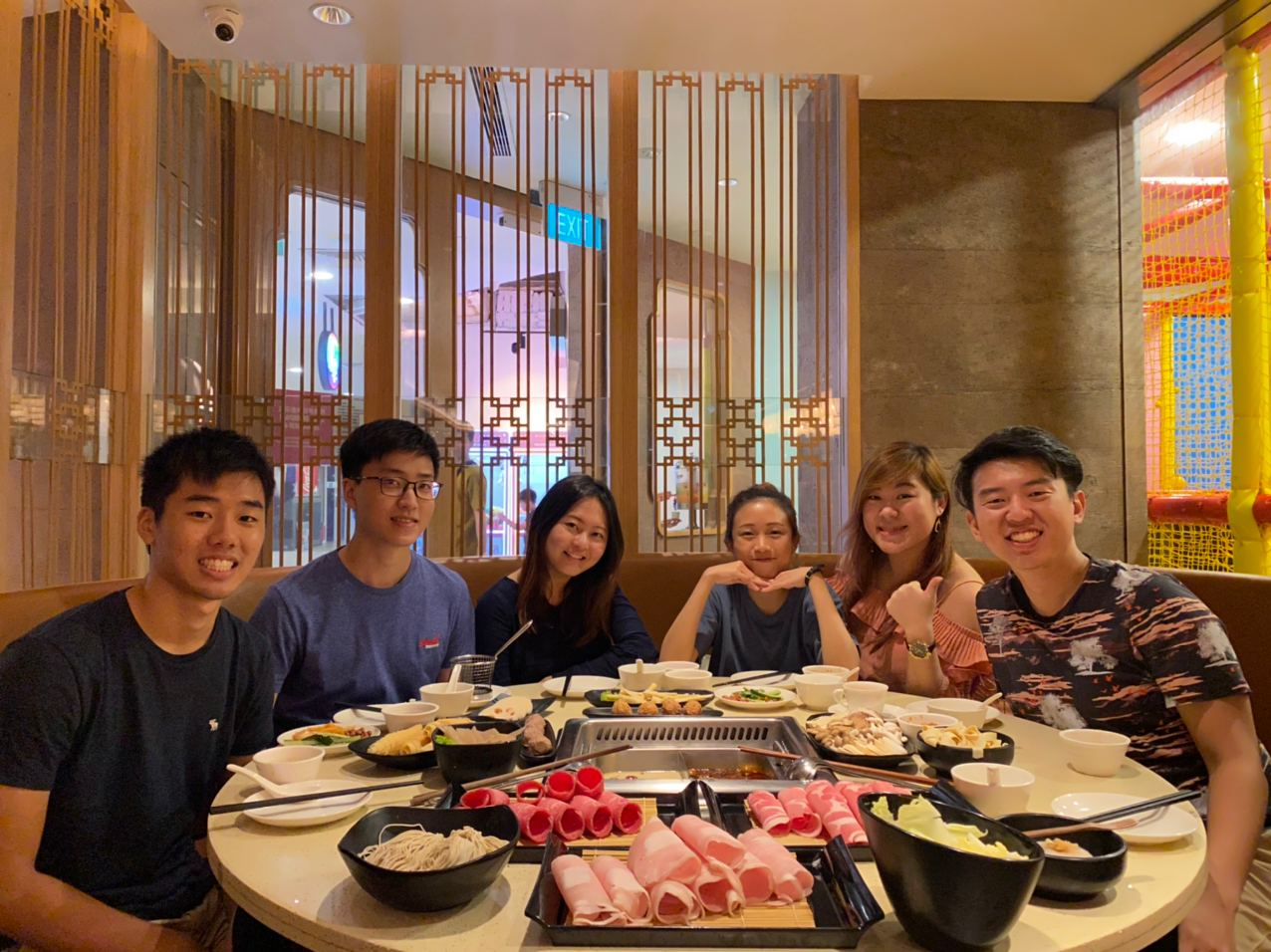 Marcus shared the same sentiments. He had an internship at the Defense Science and Technology Agency, where he worked on projects related to machine learning and natural language processing. He then embarked on the NOC Shanghai program, where he focused on software engineering at a tech startup specializing in unmanned systems. After returning to Singapore, Marcus continued to explore his interests and took on a data analytics internship. However, In his final year, he decided to work on projects involving computer graphics and interactive media because of his interests in virtual reality and game development.
"The software world is huge and there are so many possible specializations to take. Although the exposure to a wide breadth of topics provided an exciting journey, I believe that it may have been more practical for me to find a niche area of interest earlier. If I could go back in time, I wish I had some sort of clarity about the different paths I can explore and how I can work towards a goal. That would be much better than being a jack of all trades but a master of none." Marcus said his vision is to help students identify their interests and career goals at an early stage so that there will be a clearer path for them.
There are so many what-ifs, and uncertainty is always present for students. Hence, MatcHub was founded with a vision to build a platform for every student and company to find their best match. Rather than let our juniors go through the same trial and error we went through, why not give them a more targeted and accelerated career path?
Finding possibilities through MatcHub
As with any business, the start is always the toughest. From market validation to pivoting, and eventually building our prototype, we are thankful to have gotten advice from many mentors. There were so many decisions that had to be made. Naming MatcHub took us some time too—it needed to be catchy yet capture our business's essence.
When we finally started building MatcHub, the two main challenges were product development and gaining traction. Starting with a team of six, we had to do everything ourselves. As the marketing lead, I had a wide range of responsibilities, from designing the logo, website, and UI/UX, to coming up with social media content, writing and editing articles, performing SEO, and tracking the analytics. I have also assisted with the development of our in-house psychometric test. You can try it out here!
Fortunately, our labour paid off. After six or seven months, our early adopters were coming back to us with referrals. It was really motivating to receive positive feedback. I remember there was a candidate who took the effort to call us just to show his appreciation for our efforts and thank us for what we are doing, saying that it was very meaningful and how MatcHub was really what students need. There have been many other encouraging words from students who we recommended internship roles to.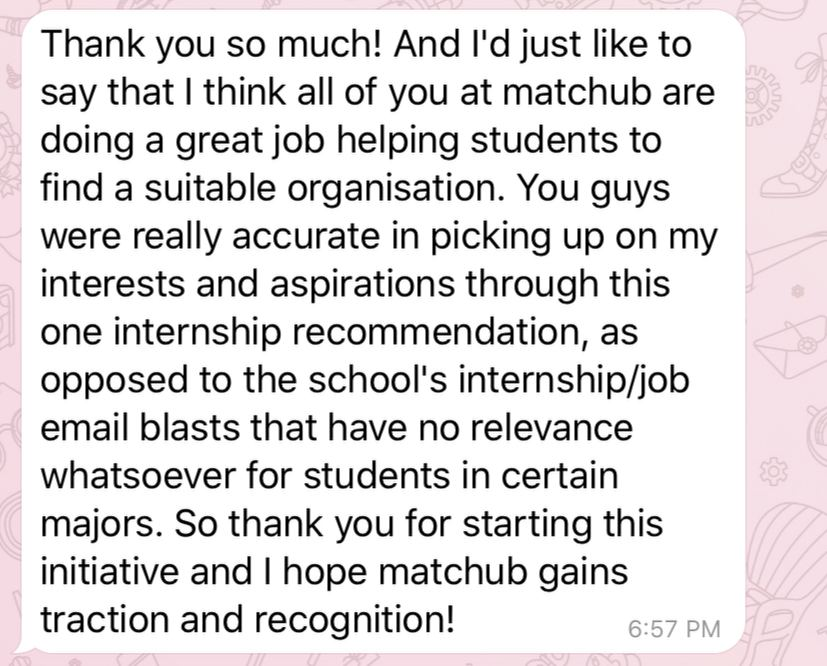 This kept us going, even when times were tough and we were busy. We had to squeeze time out of our busy schedule, juggling school work, other commitments, and MatcHub. We really wanted this to work.
After a year, we managed to grow into a team of 12 with many exciting initiatives. Other than a presence on almost every social media platform, we also created a Telegram bot. The idea had come from Marcus, who emphasized the importance of developing interests and finding passion through side projects. The team jumped on the idea and built the "Projects with MatcHub" campaign on Instagram and our Telegram bot @matchubbot.  We also organized webinars where we invited recruiters to share tips and tricks for getting hired—read about what they shared here!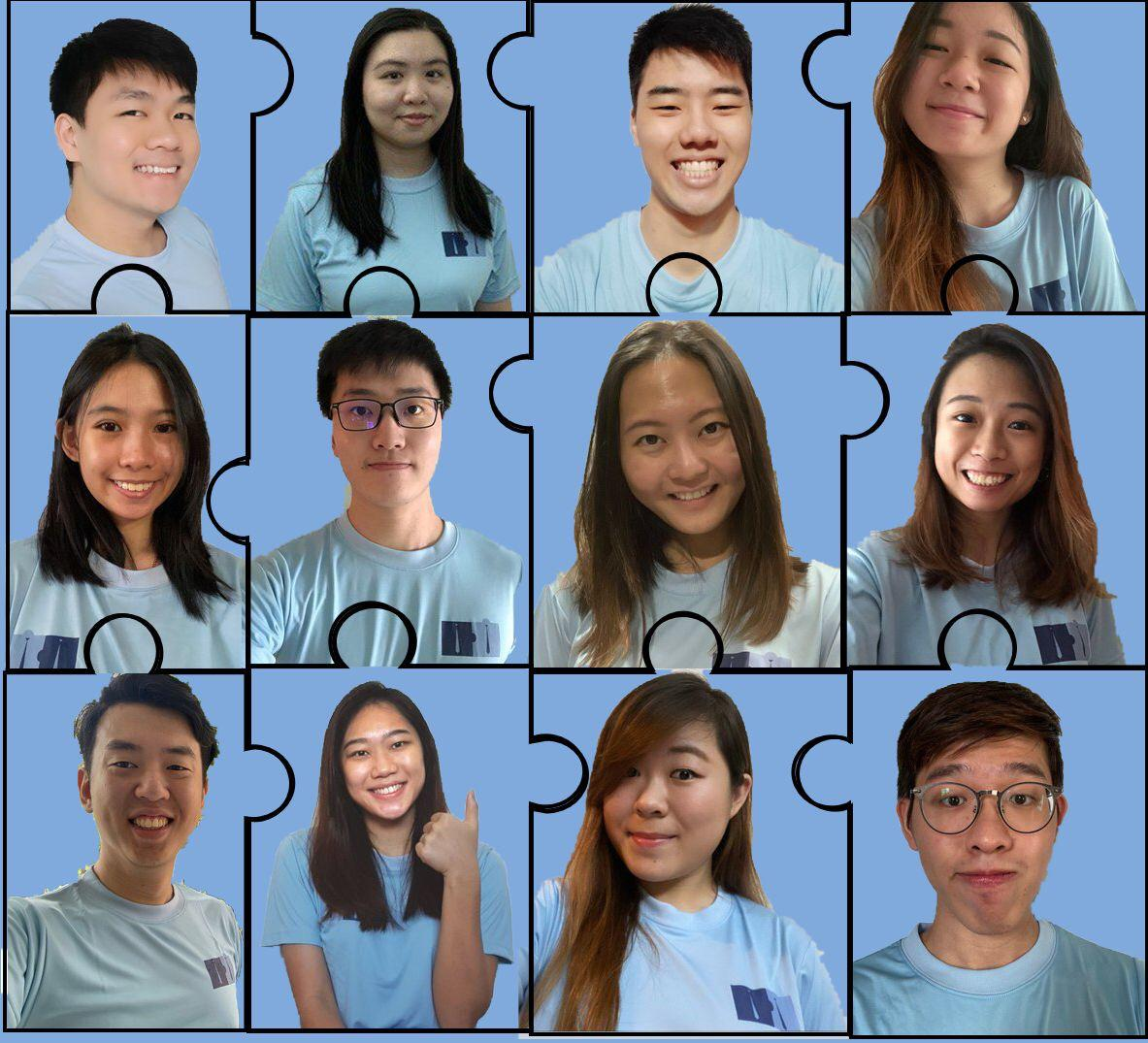 Choosing an internship position is tough. Planning a career path is much more daunting. The time spent with my co-founders while we build MatcHub has proved to be fruitful, and I am looking forward to upcoming developments. As we continue to find different ways to guide students to their desired paths through MatcHub, our vision and value will always be to help young people discover and pursue a career path that fulfils their goals and aspirations, and to help employers find suitable talents that can add value to their company.
---
Jolies Tan is the marketing lead at MatcHub.She started her professional journey as an accounts executive intern. Needless to say, it was probably her worse internship ever. She went in not knowing what she liked, what she disliked, and nothing about corporate culture. Now, she strives to be a beacon to young people through MatcHub and to help them understand and find themselves in this complex world.
Disclaimer: This article was written by a contributor. All content is written by and reflects the personal perspective of the writer. If you'd like to contribute, you can apply here.