Anthony Sar founded Finnovasia in 2015 aiming to create an independent platform, which brings together the fintech community in Asia and globally and organized over 80 events across the regions. Finnovasia is the officially appointed organizer by InvestHK of the Hong Kong FinTech Week, the flagship industry event in Asia with over 15,000 attendees from more than 130 economies. Anthony is also the founder of FinTech Club, an exclusive community for senior executives in Hong Kong, and FinTech Basketball League which brings together 18 teams among the industry professionals in Hong Kong.
This interview has been edited for brevity and clarity. 
KrASIA (Kr): Finnovasia has been around for 5 years. Can you share how it all began?
Anthony Sar (AS): To give some context, I was born in Siberia, Russia. My first job was being a journalist for one of the leading business newspapers in Moscow. After five or six years of working, I got into a MBA program in school. And it was a brand new school in Moscow called Skolkovo. They organize modules in different parts of the world, such as India, Brazil and even learning opportunities in conjunction with MIT in the US. The idea was to get acquainted with the most advanced knowledge and cutting-edge technologies found in emerging markets.
I flew to Shanghai to complete a module that I had picked. In those years of studying new innovations, my greatest discovery was truly the convergence of technology and finance—fintech—also one of the hottest topics of 2015. In order to understand the use of technology in finance, I attended some free conferences in Hong Kong, supposedly a top financial hub in the world. But the only thing I learned was that these conferences are actually crap. There was really not much to learn, minimal networking and almost zero knowledge. I was shocked.
I set out to make a difference. I met people from the fintech industry, interviewed them on innovation, then rolled out a series of videos. I gave the name 'Finnovasia' which refers to Finance Innovation in Asia. Over time, I realized there was no good place for interested audiences to meet these fintech leaders, to learn, and consult, and ideate. I felt it would be great to put the key figures on stage, with a larger scale event for fintech. That led to my first event in 2015.
Kr: How did it go? And how have you continued to develop Finnovasia?
AS: With my small team of five, we asked ourselves, "What kind of event would I want to go to?" We concluded that our fintech event would literally showcase the beauty of a tech-driven conference—cool lighting, good music playing in the background, a one-minute pitch competition by different venture capitalists (VCs) in the setting of a party. We even had sponsors for whiskey because we believed it would lighten the mood and build fun!
People were shocked at our crazy energy and format for a banking convention. They were used to the standard boring, useless talks. But they also loved it. We were shaking things up and challenging the norms.
Our events grew bigger in scale, until we were invited to host the Hong Kong FinTech Week. It was a flagship event for Hong Kong, bringing together regulators, governments and the private sector in one setting. The first year saw 500 attendees only. By 2019, we had 8,000 people within three main days of the conference. Currently, we're proud to be hosting the biggest financial technology business event in Hong Kong.
Kr: In organizing the Hong Kong FinTech Week, what were some challenges you faced?
AS: At the beginning in 2015, it was difficult to establish partnerships with financial institutions, especially big banks. It's not even about the money or budget, but the ability to build trustful relationships with them. We needed their trust and faith. That took a long time.
I guess we succeeded because we consistently showed them that we deliver. Our events always went smoothly and successfully. Where possible, we even exceed the expectations.
Another challenge I can think of is curating the right mix of speakers. A few years ago, there was a sudden craze over bitcoin ICOs. It was money falling from the sky, and every company was hopping on the bandwagon and keen to explore blockchain and bitcoins. I personally found bitcoin and cryptocurrencies interesting, so I brought Ethereum back onstage at our events too.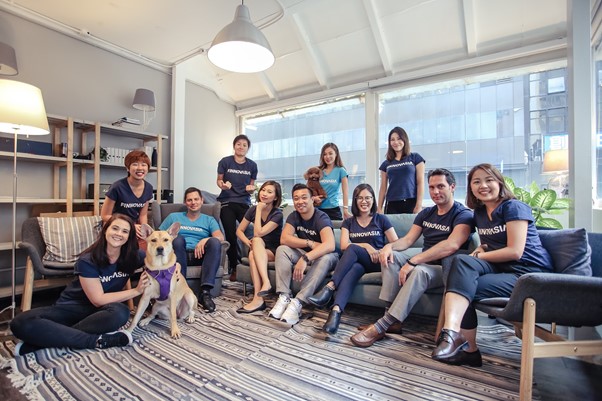 But over time, I realized it was becoming a speculative thing. People were unthinkingly buying and selling for short term, opportunistic gains, and the Bitcoin value fluctuated intensely. I couldn't see how this would impact society in a better way. After all, Finnovasia was created to share the best innovations with the world, propelling fintech in the right direction. We want to create healthy competition between companies, leading to the lowest cost and highest service standards for consumers.
What happened later with bitcoin was that it all crashed and a lot of people got hurt. In hindsight, I'm glad that my team was careful in handling the 'heat' from bitcoin trends, and our speakers from the blockchain space were all selectively invited. It shows when we put thought into the curation of every event. I think people can trust us.
Kr: The digital bank era has really kicked off in a number of countries, and Singapore is also on the verge of granting licenses. What does this really mean for the banking scene? 
AS: Five years ago, no one could even imagine that we'd have eight digital banks in Hong Kong. I remember inviting speakers from Ant Group, ZhongAn and other Chinese companies that were keen to expand in the virtual banking scene. Nobody thought much but look where we are now.
Obviously, digital banks come with their own benefits. For instance, opening a bank account—even a corporate account which usually takes longer—can be done almost instantaneously over the Internet. So many banking activities that would traditionally require one to visit a bank branch, can be fulfilled online.
Having eight digital banks also means a whole new level of competition. This translates to choices, lower prices and higher service quality for customers. For the incumbent banks, they have cancelled account minimum requirements and reduced certain fees too. They are even launching their own digital bank to stay competitive. Overall, digital banking does bring huge benefits to society.
Kr: Last question, could you share some of Finnovasia's highlights for the year?
AS: 2020 has been a challenging year for us. Firstly, we've had to deal with political and social unrest in the country. This resulted in a strain on the economy, and inevitably our business.
Just as we thought nothing could be worse, the COVID-19 pandemic hit. It was not clear how long the situation would persist. And online events were completely new to the team. We were reconsidering if we should even host the Hong Kong FinTech Week at all.
Eventually, we decided to go all in, and find a way to make it work. We knew that many events would be halted during this period and companies would suffer, but didn't want to see the same fate for our company. That's why as other companies began to lay off employees, we were actively hiring people who could help us with an online event and our team grew to 25 strong.
We looked at video news from CNN and Bloomberg, how internet users consume content on YouTube, the filming styles from Netflix series, etc. We worked with computer graphic software engineers, digital artists, and editing teams. We even collaborated with a team from France, that developed and customized a software suiting our needs. For an online event to incorporate the "human" element, we decided to film a food tour around Hong Kong, introducing local street food and famous attractions of the country. This was streamed alongside our virtual conference to give attendees the feel of an actual, real-life conference.
After all the effort, the online event turned out a great success. We now look forward to what 2021 will bring.
Disclaimer: This article is part of our "Tuning In" series. All answers reflect the personal perspective of the interviewee, and not KrASIA's. If you'd like to contribute as a writer or nominate someone for our "Tuning In" series, you can email us at [email protected].